Over the past few weeks, I've come to take distance walking a little more seriously. With last Saturday's trek to Evanston under my belt, my confidence in going the distance has been bolstered significantly.
So I've decided to up the ante. This weekend, I'm walking two towns north, to Wilmette - a good 10 miles from my apartment. My plan is to take the L as far north as it goes, to the Linden stop on the Purple Line. Then I'm going to head east toward the lake, check out the stunning Baha'i Temple on foot, and head back south for a 3.5 hour walk back home.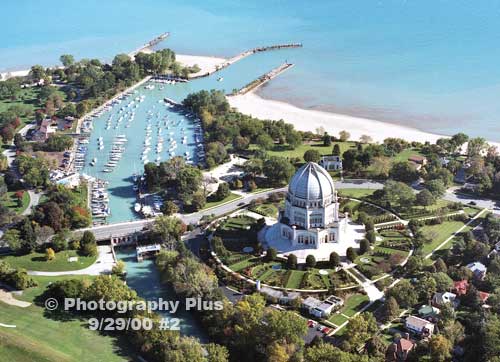 Baha'i Temple, Wilmette, IL - Google It.
What's more, I plan to keep edging my way north throughout the fall, hoping to at least pop-in on my aunt and uncle in Glencoe, 15 miles away. I have this crazy desire to walk to the Wisconsin state line - 44 miles, estimated walking time 14.5 hours.
Is this crazy? I don't know...I've been wanting to go distance hiking for a few years now, especially on the Appalachian Trail that runs from Maine to Georgia. I will probably never be able to do it all at once, but it would be neat to hike sections of it during my vacations.
We'll see how this goes.
This weekend I'm getting all kinds of treats for myself: new athletic shoes (and I'm not going to settle for any size twelve - I want one to fit my specifications and needs!) and a new haircut at Streets of London Salon. It comes highly recommended on
yelp.com
, and I get a 30% discount for mentioning yelp when I made my appointment. Yay! Cost-cutter! My plan is to let them give me a hip new cut that's still says "I'm Laura, and I'm romantic and virginal, professional yet hip and with it, but never a cat lady." I think they can get it down. And the place is run by actual Londoners! An accented guy took my appointment! Squeeeee! I'mma be Euro-in this bitch up!
So there's that,
Laura